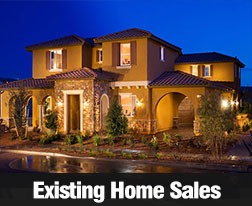 The National Association of REALTORS® released its Existing Home Sales report for March on Monday.
Sales dipped from February's seasonally adjusted annual rate of 4.95 million to 4.92 million existing homes sold in March, a decrease of 0.6 percent month-to-month.
This reading was lower than Wall Street's consensus of 5.03 million existing homes sold, but there is also good news.
Sales of existing homes are up by 10.3 percent as compared to March 2012.
Economists note that existing home sales have performed within a narrow range of 4.90 to 4.96 million since November 2012.
This illustrates the impact of lower numbers of existing homes available for purchase in Colorado and around the country.
The National Association of Homebuilders Housing Market Index reports builder concerns including rising materials costs, tight construction credit and lack of available developed lots for building.
Demand for Homes, Fewer Distressed Properties Driving Median Home Price Gains
The national median price for existing homes was $184,300; this is an 11.8 percent increase over March 2012.
This was the largest year-over-year price increase since November 2005.
Low inventories of available homes for sale and fewer distressed properties on the market are supporting rising home prices.
Distressed home represented 21 percent of existing home sales in March, which was their lowest market share since data collection started in 2008.
Distressed home sales decreased from a 29 percent market share in March 2012.
With fewer "bargain-basement" homes on the market, homeowners waiting to sell may be more willing to list their homes which could add to the numbers of existing homes available.
Regional Median Home Prices Rise
Existing home sales declined in two of four U.S. regional markets, were unchanged in one market and rose in one market.
Sales of existing homes are calculated on an annual basis.
Northeast: Sales volume for March was unchanged at 630,000 homes sold annually. The median price is $237,000. This represents a year-over-increase of 6.8 percent since March 2012.
Midwest: Sales increased by 1.8 percent to 1.16 million homes. The median price rose to $141,800, an increase of 7.8 percent year-over-year.
South: Sales volume dropped by1.5 percent to 1.95 million homes. The median home price is $161,700. This is a 10.4 percent increase as compared to March 2012.
West: Sales volume declined by 1.7 percent to 1.18 million homes. This represents an increase of 4.4 percent in existing home sales over March 2012. The median home price in the West has risen by 26.1 percent year-over-year to $258,100. This dramatic increase is attributed by high demand for homes caused by very low home inventories.
While regional median home prices rose across the board in March, regional sales volumes were varied; this suggests that if there were more homes available, there would be more buyers.