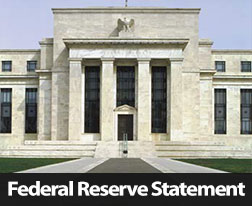 There was potentially good news for mortgage rates on Wednesday as the Fed's Federal Open Market Committee (FOMC) announced that its quantitative easing (QE) program would remain unchanged for the present.
Economists expect the Fed to begin tapering the amount of QE toward the end of the year in accordance with Chairman Ben Bernanke's previous statements that "tapering" would likely begin near year-end.
No specific date for reducing the QE assets purchases was given.
Chairman Bernanke has previously indicated that the Fed will closely review domestic and global economic developments as part of its decision-making process for changing the QE program. Wednesday's FOMC statement reaffirmed this plan.
Fed Cites Economic Expansion and Improving Labor Conditions
The FOMC statement cited modest economic expansion, improving labor markets and continued high unemployment levels as a basis for continuing its current level of QE.
The Fed's mandate requires it to support price stability and low unemployment; reversals in these or other economic areas could cause the Fed to continue its QE at present levels. At present, economists expect QE to end in mid-2014.
The FOMC statement also indicated that the target federal funds rate will remain between 0.00 and 0.25 percent at least until the national unemployment rate falls to 6.50 percent. Chairman Bernanke did not give a press conference after Wednesday's statement was released.
Quantitative Easing: Monthly Purchase of MBS, Treasury Securities Intended to Control Mortgage Rates
The Fed currently purchases $40 billion in mortgage-backed securities (MBS) and $45 billion in Treasury securities monthly. These purchases are intended to control long-term interest rates including mortgage rates.
When the Fed begins tapering and eventually concludes these asset purchases, demand for MBS and Treasury securities are expected to fall and their prices will likely fall as well. When prices for bonds include MBS fall, mortgage rates traditionally rise.
With mortgage rates recently moving up, reducing the level of the Fed's QE asset purchases is cause for concern. Higher mortgage rates make homes less affordable; the combination of rising home prices and mortgage rates presents challenges for first-time home buyers and others without sufficient funds for meeting higher down payments and monthly mortgage payments.
Now would be a very good time to ask your trusted mortgage professional for a personal review of your mortgage situation. Give them a call and ask for your private assessment today.