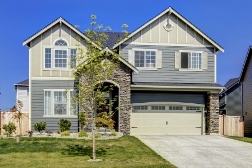 Refinancing your home might be a great way to save money or tap into the capital needed to pay off large debts. However, a refinance can also be an expensive endeavor, and you could even risk harming your credit rating or risk foreclosure if you're not careful.
Before you take the plunge with a refinance, here are five essential questions that you should ask before signing on the dotted line.
How Much Equity Do I Have In My Home?
Many homeowners today owe more on their mortgage than what the property is actually worth. For mortgage refinancing to be possible, a homeowner must have at least 20 percent equity in their home in order to avoid paying private mortgage insurance. The benefit of refinancing would be negated if PMI has to be added to the cost of the new loan.
Do I Have A Good Credit Score?
The health of your credit score plays a huge role in the type of mortgage rate you'll be able to qualify for.
Since mortgage rates operate on a sliding scale, the lowest rates tend to be offered to those with a credit score of 720 or more. Borrowers who have a score under 620 may have trouble qualifying for a decent rate, let alone getting approved at all.
Will I Qualify For The Rate I Want?
You might be able to get a general sense of the type of interest rate you could get for a refinance as quoted on major financial websites like BankRate.com, but your specific financial details, such as the type of loan you'd like to refinance into or your credit score, will influence the actual rates that will be available to you.
If you don't qualify for the lowest advertised refinance rates, it's important to determine if it's still worthwhile to refinance your mortgage at the rate you qualify for.
Will I Have To Pay A Penalty?
Most mortgages have a number of rules attached to them, including penalties for breaking a current mortgage before it comes up for renewal. It's in your best interest to find out if there are any penalties and, if so, what that dollar figure would be.
Some penalties are so high that that they no longer make the refinancing cost-effective. Reading the fine print on your mortgage contract is crucial.
Do I Have A Second Mortgage?
Borrowers who have a second mortgage might face additional challenges when it comes to refinancing their home. In this case, you may either pay off the second mortgage or combine both loans into a bigger first mortgage.
Otherwise, the lender providing the second loan has to agree to staying in second place behind the lender holding the first mortgage, which they might not necessarily be willing to agree to.
The bottom line is: refinancing might be a great way to help you pay off large debts or save money. However, it's critical that you analyze your specific financial situation in order to avoid getting yourself into a worse position where the only party benefitting from the refinance is the loan officer.
Get in touch with an experienced mortgage specialist today to discuss your needs and to determine if refinancing your home is right for you.